All You Need to Know About Cloud Computing
February 20, 2021 | Filos Team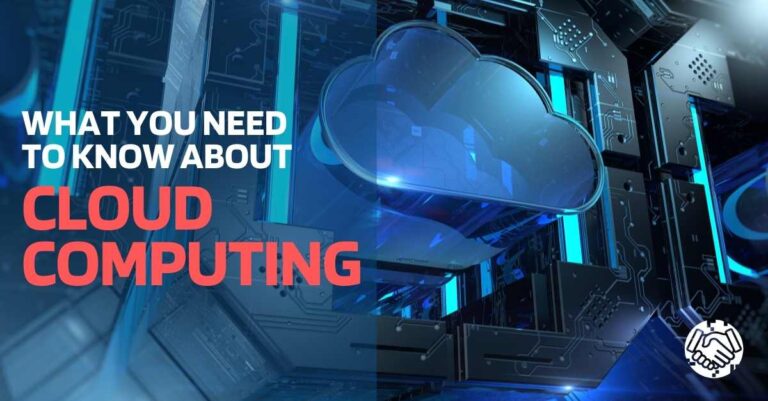 Cloud computing, which backed the world's economy, global supply chains and remote workforces during the COVID-19 pandemic, will continue to be a critical focus for organizations looking for increased scalability, business continuity and cost efficiency in 2021.
Cloud computing has been around for approximately two decades yet only became one of the most adopted technologies among businesses in the last few years, given the business efficiencies, cost benefits, and competitive advantage it holds. In 2020, Dell reported companies that invest in big data, cloud, mobility, and security enjoy up to 53% faster revenue growth than competitors.
Now cloud computing is not just about its many benefits, it is about using technology to run an organization more efficiently and better serve customers to a competitive degree.
What is cloud computing?
Cloud computing is the delivery of on-demand computing services over the internet and on a pay-as-you-go basis. Cloud computing services range from applications to storage and processing power.
How does cloud computing work?
Rather than companies owning their own computing infrastructure or data centers, they can rent access to anything—from applications to storage—from a cloud service provider.
A major benefit of using cloud computing services is avoiding the upfront cost and complexity of owning and maintaining IT infrastructure, and rather simply paying only for what is used when it is used. This allows cloud computing service providers to benefit from economies of scale by delivering the same services to a wide range of customers, while saving them time and money.
Cloud computing can be broken down into three cloud computing models:
 What is Infrastructure-as-a-Service?
Infrastructure-as-a-Service (IaaS) refers to the parts of computing that can be rented: physical or virtual servers, storage, and networking. Companies that wish to build applications themselves from ground up, find this model appealing. However, this model does require the company to have a high degree of technical skills to coordinate services at this level. Research by Oracle has suggested 33% of IaaS users experiences shorter deployment times for new applications and services, and cut costs on maintenance; however, 50% said IaaS is not secure enough for critical data.
What is Platform-as-a-Service?
Platform-as-a-Service (PaaS) is the next layer in cloud computing. PaaS provides a simpler platform which allows users to develop, run, and manage applications without the complexity of building and maintaining the infrastructure typically associated with developing and managing applications. This platform includes the underlying storage, networking, virtual servers, and software's that developers need to build and manage applications efficiently.
What is Software-as-a-Service?
Software-as-a-Service (SaaS) is the version of cloud computing most people are acquainted with. It is a delivery in which software is licensed on a subscription basis while being centrally hosted. SaaS is sometimes referred to as "on-demand software" or "software plus services". Essentially, the underlying hardware and operating system is irrelevant to the user who can access the service via web browser or application.
Common SaaS applications involve Customer relationship management (CRM) applications, and enterprise resource management (ERM) applications. These account for more than 60% of all cloud application spending through 2021 and for the last three years. One of the key benefits of SaaS is that it saves companies the financial burden of internal IT staff managing email, and CRM while also saving time by having this data organized effectively.
Cloud computing benefits
Cloud computing benefits vary depending on the type of cloud service being used, but essentially, using cloud services means cost and time savings for companies not having to buy or maintain their own infrastructure or IT staff.
Buying servers, updating applications, or operating systems, disposing of outdated software/hardware is all taken care of by the cloud service supplier. Given that this work requires specialized experience and knowledge, these services often cost more than a business can afford to pay, so companies who utilize these suppliers for cloud services are retaining a more secure and efficient service to end users alongside the benefits of the cloud.
Using cloud services also allows companies to finish projects and test concepts at a significantly faster pace, because they are avoiding lengthy procurement and big upfront costs while paying only for resources consumed. This business agility is typically mentioned as a key benefit by cloud users.
Cloud users also benefit from the ability to get started with new applications while scaling them fast. Avoiding the time, effort, and labor associated with traditional IT procurement makes this process much easier, more affordable, and scalable.
For companies with applications that have peaks in usage during specific times of the week or year, it makes the most financial sense to host their applications in the cloud rather than paying for dedicated hardware and software that is idle for most of the time. Moving to cloud hosted application for even just certain services like CRM or email can also save organizations money by releasing them of internal IT staff.
For more information on cloud computing, or for a consultation, email info@filostechnology.com
Leave your preferred contact information, and have a team member contact you.